From an email I received:
CAN YOU GUESS WHAT THIS IS?
Can you get it on the first picture or second or third or do you have to wait till the fourth? 5th? 6th? 7th?
Sorry folks, I'm way late this year.  No birthday gifts this year, so you'll have that much more to spend on Christmas.  This is my year end list for those who still shopping for me.  I've removed the super high dollar items being we're all poor this year.You'll see the price and a link to where to buy the item! I make it to easy for you, I know. You can click on the link to see more of a description too.
We'll start with an air blow gun, my $2 one is leaking, so this would be nice.
$20, Sears
---
To keep the air tools going, I'll need some sockets. These are 1/2" drive deep and standard SAE sockets.
$140, Sears
---
Need to organize those, so the SAE socket organizer goes well.
$9, Harbor Freight
---
I also have metric set already, that I need to organize.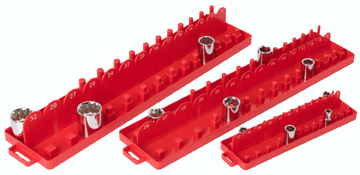 $9, Harbor Freight
---
And we'll need to protect my new toolbox from all these new tools with a tool box liner. This will work, or the kind that is a soft smooth liner, vs this one that has like window screen like form to it. Sorry, I dont have a link for this.
$6, Harbor Freight
---
We'll also want to add a power tool, 3/8 air ratchet.
$35, Sears
---
Now we'll need 3/8" drive sockets to go with it.
$30, Sears
---
Ok we'll switch gears: Cameras is the obvious next items.
This is what I'd really like to get, Canon 5D Mark II kit with the 24-105 IS lens.
$3500, B&H
---
Or, I suppose body only will suffice. Hurry to order though, they are backordered.
$2700, B&H
---
This would be the next one I'd want, would much rather have the 5D though. This is the Canon 50D with the 18-200 IS kit lens. It has an instant rebate on it, hurry!
$1615, B&H
---
So, thats a little high for your budget still, we'll bring it down. Off camera flash cord. One of each length, 20" and 34".
---
This one the price dropped, I probably will get it if you don't, a black and a white muslin background, 10′x12′.
So, thats the list so far, maybe I'll add more, we'll see. Merry Christmas!
Krissy and I had a fun and eventful weekend, one of the few this year. Missy's wedding on Saturday, then hiking in Starved Rock State Park on Sunday.
Missy has an important role in Krissy and my life, so her wedding had a special meaning to me (and Krissy). Krissy met Missy in Geology classes at NIU, which is how they became friends. The important role comes to Missy's neighbor in college, Justin. I've known Justin since we lived on the same floor in the dorms. Justin and Missy were neighbors, and would combine parties, which is how Krissy and I met.
So being I was at a wedding, I couldn't leave my camera in its bag, so here are the photos:
<< Mike and Missy's Wedding Photos >>
To download a larger image in the album, click on the thumbnail and click the download link at the top right of the image.
Congrats Mike and Missy!